How can I be successful in the DadaABC demo lesson?
You want to teach ESL online to kids.  You passed the online ESL interview and now you are preparing for the ESL demo lesson!  I will take you through the steps of what to expect at this stage and how to be successful with the demo lesson to become a home-based ESL Teacher.
DaDaABC will provide some information
First, they will email you to confirm your demo time; it will also show on the platform schedule that you are booked for the lesson.  I was very impressed to get a notification that I had an online ESL class booked. I could preview the material for the demo with the child's name.  
SIGN UP NOW and Receive our FREE 14-day Online ESL Mentoring Series
In the email, there were some specifics that will help for the demo. There are quite a few training videos that vary in length; it is good to give yourself lots of time to go through the material.  There are a lot of tips and ideas that will help you be successful for both the demo and for your classes at DadaABC.  
Dear  Brenda
You will have the demo class at 18:30 **BEIJING TIME** on Tuesday, December 19th. Please preview the courseware in your teacher center, and make sure have the following things during the class.
1. Proper lighting (don't too light or too dark);
2. Wear a light blue cloth;
3. Have a decorated background, you could choose one of the following things or more:
       a. Educational posters
       b. World maps
       c. Animal or scenery pictures
       d. The alphabet
4. Props or flashcards (if you don't want to spend much money, you could handwriting or printing);
5. Watch the important training videos before demo class.
These things will help you a lot to pass the demo class. Please be on time and hope you have a good demo!
***Please, don't be late, and stay until the class time is over.
Thanks & Regards
#1 Preparing for the demo.
My demo would be on phonic sound 'b' and 'h'.  I need to prepare the material, stage my background and prepare the props.  Another key factor is to understand the lesson objectives and content delivery.  They want to see how your presentation methods as a virtual ESL tutor.  So, I brought in my phonetic experience of teaching sounds; how to say the sound and the structure of the mouth.  I had the student listen, repeat, and then apply into the classroom (PPP – presentation, practice and production methodology).  
First, I prepared flash cards for those letter sounds and some props (finger puppets, hat, and bear).  Secondly, I prepared a rewards chart which I made on my whiteboard and stuck magnets on the back of some small pictures.  I chose a zoo rewards chart, that after two stars, they can choose an animal they want to see at the zoo.  
Though they didn't request a rewards system, I did see there was a whole category of training videos specifically on a rewards system on their website; I thought it was a good idea to have one prepared for the lesson.  Here is a sample of my rewards chart, props, and flashcards:
#2 Tips for the demo:
High Energy

Correct pronunciation

Use hardwired internet

Show up early in the lesson

TPR

Props

Rewards system
#3 What happened in my DaDaABC demo lesson?
They will book a live student for you to conduct a lesson.  Though it was just me and another student, they are able to still view your class.  You can enter the room 5 minutes before to come into the room.
#4 The training videos:
They request you to watch the training videos before the class. Then there are more videos to watch after the demo has been completed.
SIGN UP NOW and Receive our FREE 14-day Online ESL Mentoring Series
#5 What happens at the beginning of the lesson?
I taught a little boy named Roger; he was probably around 5 or 6 years old. He was very friendly but knew limited English.
I greeted and introduced myself to him. I used a funny stuffed animal to say "hello," and he laughed.  If you can make your student laugh or smile, it will help your class.
Remember these students are very young; they probably had a long and difficult day at school and they might be nervous.  Try to make the lesson fun and entertaining.
I started with a simple song 'hello friend'. Though, the student didn't sing or repeat, when I applied instructional TPR by cupping my hand to my ear.  I felt so embarrassed, but kept on going and finished the song.
I showed him my rewards system on the whiteboard of the zoo animals. They have 5 stars and they request to give students at least 4 stars in each lesson.  I give him two stars and then an animal.  I found I had enough time for him to get three animals in the zoo because I gave him one more additional animal at the end of the class for his great work.
Then, I introduced the title of the lesson. They have colorful animals in the slides. I chose a panda and a bear a prop at the beginning.
#6 What do we use for the material?
I had a young student and the material was on phonics (b, p, h and s sounds).  I used my props in the lesson.  It starts with the letter, I introduce the letter, the sound it makes. I used a flash card to center out the letter.  Then there are a few sentences with that sound. After those sounds are introduced and sentences read, then the student listens to you say a word and then they have to listen again to find the missing letter.  My student had difficulty with this, so I had to help him with writing to letters on the board for him to choose from.  We struggled with this but we plugged through and always being positive and encouraging.
Then the next activity was drawing the lines from the letters to make the word. The picture is on the page, you will need to ask what it is first and help the student recognize the letter sound to make a word.
By that time, the lesson time was over (It was 30 minutes long) I said he did a good job. I counted the stars, allowed him to pick another animal for the zoo on the reward board. Then I bookmarked the lesson and closed the close.  Wrote a feedback note.  Here is a sample for a phonics lesson:
SIGN UP NOW and Receive our FREE 14-day Online ESL Mentoring Series
#7 How to teach phonics?
Use a flash card and say the letter two times and have the student repeat. Then I go into the sound, "h" says h….hhh..(I only say the sound, not the letter name). I repeat 4 times and then cup my ear to have the student repeat.  If you like songs, you can easily make a tune for the saying the letter sounds.
Pronouncing words can be a challenge.  I will separate the letter from the sound.  I separate the sounds first and then blend it together. For example:  for the word 'hat', I will separate the three letter sounds and then blend it together.  "h….a…..t"……..hat.  Then I have the student repeat after me with both the separation.  Maybe the student will need you to say it again?
With four letter blends, I separate the first letter from the remaining word.  For example, the word 'sand'.  I will say "s…..and", "sand"  but remember to say it very slowly.  Also, when saying the word blended, stretch the sound out and really enunciate the sounds. I bring my face closer to the camera, put my finger on my chin, to show I want them to focus on my lip and tongue formation. Then I have the student repeat
#8 How much material should you go through?
There are 50 or 60 slides and they request the teacher to go through half the slides.  The student will take two lessons to go through one set of slides.  Then you bookmark the page and end the lesson.
Tips:
Always smile

Lots of TPR

Use props (toys, puppets)

Speak slowly

Give lots of encouragement

Make the student smile and laugh.
Remember you are teaching kids, so try to have fun, you're no teaching a math class.
#9 How soon will I find out if I passed the demo?
My computer notified me right at the end of the lesson from the office that I passed the lesson.  Yes, it is an immediate answer, but it might be different for other teachers.
#10 What happens after getting hired?
They send a welcome email to the team, they request you to respond within 24 hours that you agree to the terms and then they will send the contract afterward.
They ask for:
You to accept the agreement

What hours are fixed in your schedule?

Your banking information, what currency you want it to be paid in. ( in order to get paid to teach English online

Lastly, they want you to send an introductory video that students can watch.  30-60 second video in length, introducing yourself.
Afterward, you will conduct three probation classes which are paid and then the contract will take effect.
Overall impression:
I think it is well organized, clearly understandable, and user-friendly platform for an online ESL teacher. It is a very quick process and they want the teacher to respond quickly to the emails and prepare for the probation classes.  I personally pushed the demo date a few days later, just so I had enough time to prepare, get my props ready, background ready and to feel confident with what they were expecting of me.  Don't be afraid to give them a date a few days after the interview.  You want to feel prepared and not rushed because you want to give them the best you have as a home-based ESL teacher.
By Brenda Warburton
P. S.You do need "some" teaching experience of course to succeed, but The Online ESL Mentoring Program will give you the support you need to succeed.
It doesn't matter if you have taught for 20 years or just starting out. This is a great opportunity to analyze what you're doing in the classroom.
The Online ESL Mentoring Program is designed to support teachers throughout their ESL career.
Online ESL Mentoring Program: A Tried-and-True System that will build a tribe of loyal students so you can be the "Go-To" Guy or Gal at your school
______________________________________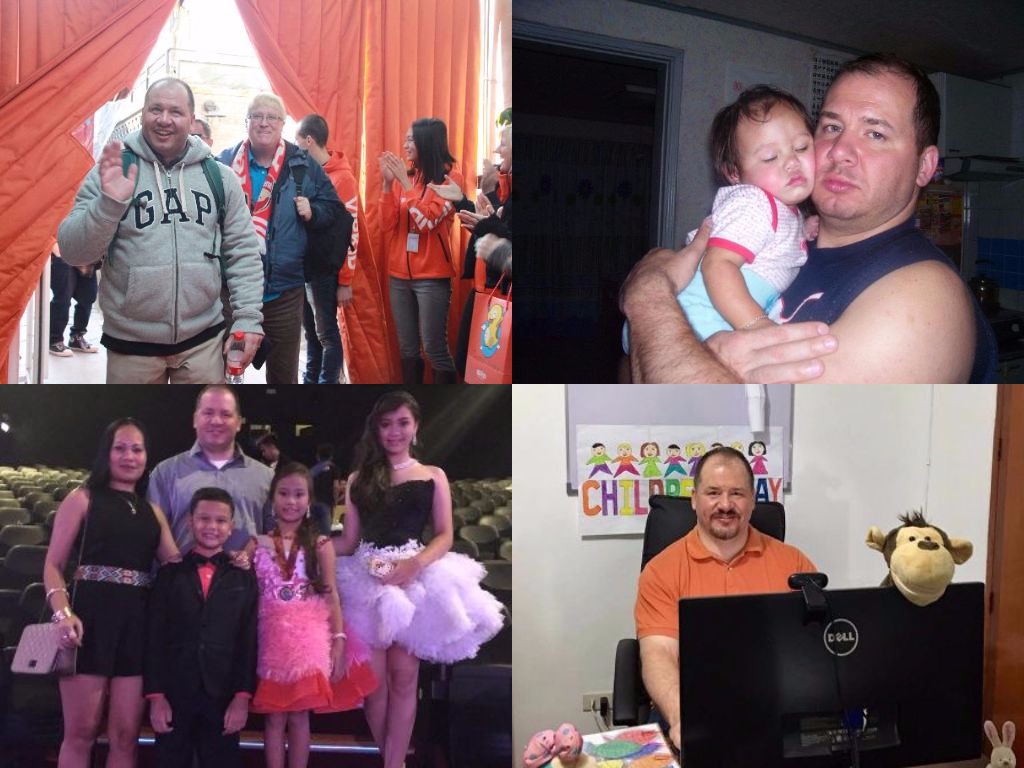 Hi! I'm Daniel DiDio. I have over 10 years experience. I've been teaching ESL online to kids since 2015.
I've traveled all over the world teaching ESL: South Korea, Myanmar, Saud Arabia, and the Philippines.
I'm also the founder of Teach ESL Online Anywhere that helps teachers find Online ESL Jobs.
My success includes winning the Most Popular Teacher Award with VIPKID. I have taught over 13,000 Online ESL Classes to kids from home.
I mentor teachers so they can become successful teaching ESL online. I get so excited when a teacher makes the changes to become a successful online ESL teacher.
If you want to follow in my footsteps and other successful teachers I've helped, enroll in The Online ESL Mentoring Program.
You can read more about me.