Hey there again, Moms!
You are on your way to becoming an effective home-based ESL teacher. You must optimize your workspace for success as a virtual English teacher.
Do you like shoe shopping? Haha!!! Should that even be a question? Of course, you do! You probably just left the shoe section at target drooling over the latest trends in boots. A woman can never have enough boots. All moms stomp out trouble in their 73 pairs of boots for every occasion; carefully hidden, ever so well in the closet that they share with their husband. Your darling husband has no idea that said "boots" exist.
Just like shopping for the perfect pair of shoes for various outfits, teachers MUST take several considerations when designing their virtual English teaching office space.
SIGN UP NOW and Receive our FREE 14-day Online ESL Mentoring Series
#1 Like Shoes, a mom's online English teaching space is most likely multipurpose in function
Right now, you are probably thinking…what English teaching workspace??? Seriously, woman, we live in a three-bedroom house with three kids! I do not have any room for a personal ESL teaching zone.  I don't even have a craft room. My hordes of craft supplies are living in Rubbermaid bins at the bottom of my closet! I like many of you have a hoarding problem with craft supplies.
You most likely have a workspace that hasn't even come to mind…
Finding the perfect English as a second language workspace is similar to buying those perfect shoes. Most times, they need to have a multipurpose function. You want them to able to wear them to volunteer in your child's classroom or to a night on the town with your spouse. They need to be interchangeable at a moment's notice.
Most of us don't have an extra room, just hanging out in our homes, to serve as the official virtual English teaching zone.  Similarly, we don't have the money to buy a pair of shoes for every occasion.
You do not need an entire office space devoted to teaching English online.
This morning alone, several online ESL teaching Mamas taught from, of all places, their bathrooms! Say What??? Pop a squat backward on the toilet; the tank serves as a laptop desk!
Based on personal experience, this is an excellent option for teaching ESL remotely from hotels. Most hotel bathrooms have really great sound insulation, lighting, and acoustics.
I have been an online ESL mentor for several moms who have taught ESL virtually from kitchen pantries and closets! This is a great option because when these moms are finished with their online ESL classes they shut the door. Out of sight. Out of mind. These moms usually have a curtain or portable backdrop to hide dry goods or clothing while they teach. An online ESL teaching mom even used a refrigerator box to create her portable English teaching backdrop.  Most appliance stores will give refrigerator boxes away for free to help an online ESL teacher.
I currently teach English online from my master bedroom. I have a desk that pops out of the wall and a portable screen background. If I decide not to work for the weekend, I can pop my desk back into the wall. My background can be folded and put in a closet. I literally "put my work away."
SIGN UP NOW and Receive our FREE 14-day Online ESL Mentoring Series
Some of you may not want a portable online English teaching space.
You prefer to buy a new pair of shoes for every outfit!
Many moms decide to set up "shop" in the basement or a garage. This can be a great option for an office that is not "portable." These areas are pretty large and provide a lot of space. Your coworkers will be cars, boxes, and gym equipment. Please be aware that these virtual English teaching spaces generally require a lot of lighting to suffice for online ESL teaching.
#2 Like the perfect pair of shoes, every mom's wants a comfortable online teaching space!
Every gal has their favorite pair of shoes. I love and adore my Uggs. My Uggs accompany me to Lake Michigan beaches in a swimsuit and paired with a parka in major Midwest snow storms. Most mornings, I'm wearing my Uggs and pajama bottoms while I teach English online. They are my go-to when I walk my kids to the bus stop in the morning. Some of you are thinking Uggs? Uggs are ugly. I'm sporting my Chuck Taylors!
Your home-based English as a second language teaching environment needs to be a comfortable space. You will be in your workspace very often. This needs to be a place where you want to spend your time getting paid to teach English online.
You will need to test run your possible virtual English teaching spaces. Sit in your online teaching space for 15 minutes. You will notice things about that area of your home, you never realized before! Make a list of what you want in terms of comfort from your online English as a second language teaching zone.
Initially, when we moved to our new house in Wisconsin, I thought I would set up "shop" in the basement. We bought a house in a new development and the basement was as dusty as a high noon desert. I realized that even if I spent hours cleaning the basement I'd still be hacking up on camera every few minutes due to the excessive dust.
My furnace is also really loud. It was picking up the sound from my microphone. Ugh!
Like many of you ladies, I despise feeling cold. I am always wearing toasty socks. It was the beginning April and I felt like I was camped out in an igloo.  
The igloo-effect was my deal-breaker!
That was the point when the basement TEFL office idea died. My husband and oldest son now use it as their PS4 man cave.
#3 Like the perfect pair of shoes, every mom needs her office to seamlessly function in her home-based English teaching environment.
About 13 years ago, I bought the cutest pair of black stilettos for a date with my husband. He took me out to eat and on a walk down Michigan Avenue in Chicago. Ladies, I was wearing stilettos in January with ice splotched across the sidewalk. This was not functional and it was plain stupid.
Your ESL teaching workspace MUST be functional. Most importantly, it MUST be quiet. You cannot be picking up any excess sound on your microphone. If you have kids, this can be difficult. Choose an insulated area that is far away from the common area of the home. This is one of the most important factors in choosing a workspace.
SIGN UP NOW and Receive our FREE 14-day Online ESL Mentoring Series
You must be able to get adequate lighting in your virtual teaching workspace. Some rooms can be difficult to get the proper effect. When we lived in Chicago, my online ESL teaching space had slanted walls. It was very difficult to set up a background without visible shadows. I had to have two lamps pointed directly at the wall with two overhead lamps pointed directly at me to get the proper effect.
You will want a space where you can store some props that are always within reach. I have a few props that I always use in every class as staples, these include; a dragon puppet, a little people family, and a whiteboard. Theses supplementary English as a second language tools that reside in a special nook in my desk. My other props are stored in a closet away from my English teaching workspace.
#4 Like the perfect pair of shoes, your English as a second language teaching zone is an expression of your personal style
Everyone has that funky pair of shoes that say, "Look at me!" This is who I am!"
My mother loves boating and fishing. When I think of my mother, boat shoes come to mind.
Your ESL teaching workspace and the background is a nonverbal communication tool. It will clearly express your distinct personality to your students. Some teachers choose a theme for their classroom. For instance, I could picture my mother with a nautical ELL classroom, due to her love of boats.
I consider myself to be a very vibrant person. I truly love life and I wanted a bright and happy virtual teaching space. My English as a second language teaching space has a lot of bright colors. I displayed a world map because I use it in most of my ESL lessons. I have an ice cream cone because I have found that ice cream is a joy that transcends cultures. It has been a conversation starter for my most shy students. I have a magnetic board that I use to display my rewards system. This works well because it is a visual reminder that I need to physically and verbally reward my students throughout my ESL lessons. I display my name in the background as a marketing tool.
Many students and parents will forget your name by the end of the lesson. The name display will give them a continuous reminder of the English teacher's name, "who instructed their student speak in complete and detailed sentences."
So, now go and have fun! Design your English as a second language teaching space! And, treat yourself to a cute pair of shoes with your first paycheck.
Cheers!
Teacher Michelle
P. S.You do need "some" teaching experience of course to succeed, but The Online ESL Mentoring Program will give you the support you need to succeed.
It doesn't matter if you have taught for 20 years or just starting out. This is a great opportunity to analyze what you're doing in the classroom.
The Online ESL Mentoring Program is designed to support teachers throughout their ESL career.
Online ESL Mentoring Program: A Tried-and-True System that will build a tribe of loyal students so you can be the "Go-To" Guy or Gal at your school
______________________________________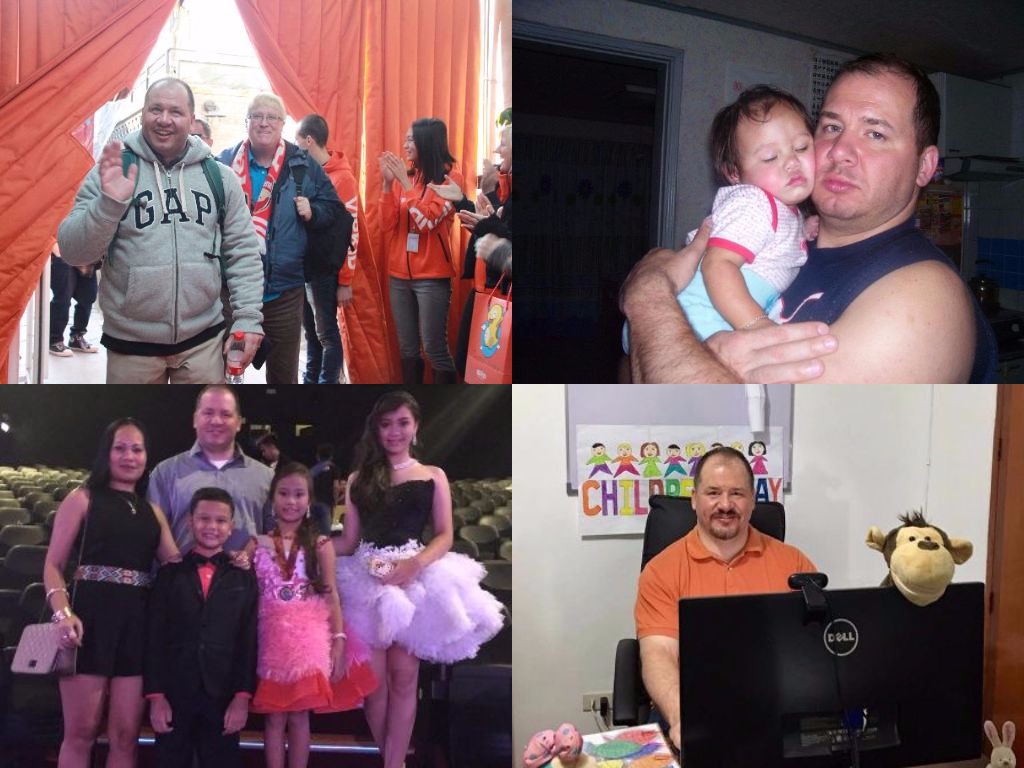 Hi! I'm Daniel DiDio. I have over 10 years experience. I've been teaching ESL online to kids since 2015.
I've traveled all over the world teaching ESL: South Korea, Myanmar, Saud Arabia, and the Philippines.
I'm also the founder of Teach ESL Online Anywhere that helps teachers find Online ESL Jobs.
My success includes winning the Most Popular Teacher Award with VIPKID. I have taught over 12,000 Online ESL Classes to kids from home.
I mentor teachers so they can become successful teaching ESL online. I get so excited when a teacher makes the changes to become a successful online ESL teacher.
If you want to follow in my footsteps and other successful teachers I've helped, enroll in The Online ESL Mentoring Program.
You can read more about me.