Hello, Mom!
Your family life is about to change drastically as you get prepared to teach English online.
You most likely have many commitments in your life; volunteering your child's school, attend field trips, serving in the nursery at church, and lunch dates with friends.
You may have to reprioritize your commitments when you get paid to teach English from home.
You must set boundaries with your friends, neighbors, and volunteer commitments when you get paid to teach English online.
The dynamic of working from home can be complicated in terms of how others perceive you. People often think that I don't "work," even though I get paid to teach English from home. I am still asked to volunteer on all of the field trips, help in the classroom, and give a hand at church.
I am glad that community members still ask for my help. I still want to be involved with my children, friends, and neighborhood while teaching ESL online. Most of you will want to be involved too, but you may need to scale back your commitments.
Some points to think about before setting your virtual teaching schedule:
SIGN UP NOW and Receive our FREE 14-day Online ESL Mentoring Series
Is it important for you to have a spotless house?
How much sleep do you need? Remember, you will be working in another time zone while living in your current time zone. You may need to account times for naps to avoid being a momster.
Do you still have small children at home?
Do you like to go out with friends on Friday and Saturday nights? Remember, at many online companies, Fridays and Saturdays are a peak time for online students.
Are your kids involved in extracurricular activities? Do you have commitments to these organizations?
1# You need to reflect on how much you want to work at your virtual English teaching company.
Most ESL teaching companies advertise part-time work, between 10-20 hours a week. Many virtual English teachers work at online ESL teaching companies around 40 hours a week.
I decided that I would aim for 20 hours a week when I started getting paid to teach English online. This was manageable because my kids were in school five days a week. If I had toddlers at home, I may have aimed for fewer hours teaching English from home.
Be aware that at some online ESL teaching companies, it can take a while to build your regular schedule of ESL students. It took me about six weeks to have a consistent twenty hours of English classes booked.
At this pace, I was able to continue volunteering at the church and school. I was busy and my house wasn't perfectly clean, but my family life didn't suffer.
I figured that I was doing so well, I might as well aim for 35-40 hours a week getting paid to teach English online. This is where I crashed and burned. I was not able to keep up with the pace of volunteering, working, and caring for my family.
I was a complete mess. Though, I am stubborn. I worked at this pace like a sleep-deprived lunatic for several months. Don't be stupid. Don't do what I did.
I was very active with the school parent-teacher organization and I served regularly on church ministry teams. My kids were very involved in karate and church activities. My husband was working constantly and I had to manage our household.
I didn't know what I wanted at this point. It was very stressful. Did I want to work more? Did I need to work more? The money from teaching English online was definitely helping our situation. Did I want to work more than invest in my community and schools?
I eventually realized after a lot of burnout and late night talks with my husband that working benefitted our family; I enjoyed being a professional. Teaching English online was helping my family financially. This is what I wanted at this phase in life and I couldn't ask for a more convenient home-based work situation. I wanted to work between 30-40 hours a week from home.
What do you want? You may want something completely different than my situation.
Be YOU. Beautiful.
Sit down in your lazy boy with a notepad, pen, a cup of coffee, and silence. Think, Meditate. Do your thing and reflect on your household.
2# Assignment: You need to write down each of your current commitments in your notebook. Reflection is necessary to optimize your success as an online ESL teacher.
Do you currently volunteer at your child's school?
Do you serve at church?
Do you help your neighbors?
Do you have obligations to elderly parents or grandparents?
What do you do in your community outside of your home?
Try to visualize your life as an online ESL teacher in various scenarios. How will you feel? How will this schedule impact your family?
What can you cut loose in your life to achieve your perfect work-life balance? When you make the decision to "cut back," you will have to be very "frank" with friends and neighbors. Most people understand that many moms do not stay at home without an income forever.
SIGN UP NOW and Receive our FREE 14-day Online ESL Mentoring Series
I currently work around 35 hours a week between all of my online ESL teaching commitments. I volunteer one hour a month in my twins' classroom. I volunteer a half hour every other week in my older son's classroom. I try to attend field trips once or twice a year. I taxi my children to their activities after school and on the weekends. I am considering volunteering once a month at church. My children are still happy and they see me as present with this current schedule.
You need to really know yourself. You need to be aware of what you can handle in your life? I can't "do it all." It is fine to admit that you can't do it all.
Before this change, I was volunteering multiple hours a week at my children's school and our church. I was a staple parent on every field trip.
My children have barely noticed that I have cut back on my commitments at their schools. They still notice and are happy when I am present. I am very happy with this work, life, and balance situation.
Many people do not understand the concept of virtual home based jobs. Most of my friends and volunteer organizations still pressed me for commitments. I have a wonderful neighbor, who still doesn't really understand the nature of my work.
She often says with her candid tone, "What???? You were working at 5:00 am and then you are working at 11:00 pm? How does that work, woman? How does that even work with your family?"
Teaching English online works seamlessly for my family. I work around their commitments. I enjoy grabbing coffee with my neighbor once a week. We all have those wonderful mom friends in our life who we talk about nothing with and they help us forget about the junk in our lives. Emily always asks me what day and time works best. I always shoot her out a few time slots on a few days. She and others in my community are growing slightly accustomed to my online ESL teaching schedule.
3# You will have to decide what is important in your life to optimize your success as a virtual ESL teacher.
The wonderful nature of teaching English virtually from home is that you can work on your own time; some online ESL companies allow you to choose the days you will work.
I take a long breath, whenever I am asked to do something new. I have a scale in my head that measures time commitments. I ask myself the question, "Is this worth losing dollars, sleep, or time with my family?" I take that gentle pause before saying, "yes," to anything now that I get paid to teach English from home.
Be still. Guard your time.
Stand firm, Mom. You may have to go in depth about the nature of teaching English online, how early you wake up, and that you do need to schedule additional time for sleep. I often have to schedule naps twice a week to account for early wake-up times. Many people view teaching ESL online as a cute hobby, rather than a career. People are currently conditioned to ask you for help with community events.
4# You will have to be disciplined with time management to optimize your success an online ESL teacher.
I currently work a few contract ESL positions. I love being an online independent contractor. I have a free-spirited nature and the work suits me well. I try to get all of my work done when my kids are sleeping or at school. My house does get messy, but it doesn't bother me anymore. You have to learn to, "LET IT GO!"
I manage to squeeze in a coffee with a friend once a week while the kids are at school. Though, when they are gone, everything is scheduled around my online English teaching job. I even schedule naps when I have worked late nights on previous evenings. At times, a nap or a gallon of coffee is necessary to teach English online.
SIGN UP NOW and Receive our FREE 14-day Online ESL Mentoring Series
You will become an expert in time management. Your Online ESL Mentor at Online ESL Kidz Coach can help you manage your time as a mom and a virtual ESL teacher.
Well, Mom, it's your time. Time for something for you!
Your private Online ESL Mentor will provide you with an Online ESL Mentoring Program.  This program is designed to help you build a "rock solid foundation" to teach ESL online.  Online ESL Kidz Coach is the Online ESL Mentoring program you need to shape your Online ESL teaching craft. Your Online ESL Kidz Mentor can help you find the positions with the highest ESL pay possible in the industry and coaching for your mock class interview. Your Online ESL Kidz Mentor will guide your every step of the way!
Cheers!
Teacher Michelle
P. S.You do need "some" teaching experience of course to succeed, but The Online ESL Mentoring Program will give you the support you need to succeed.
It doesn't matter if you have taught for 20 years or just starting out. This is a great opportunity to analyze what you're doing in the classroom.
The Online ESL Mentoring Program is designed to support teachers throughout their ESL career.
Online ESL Mentoring Program: A Tried-and-True System that will build a tribe of loyal students so you can be the "Go-To" Guy or Gal at your school
______________________________________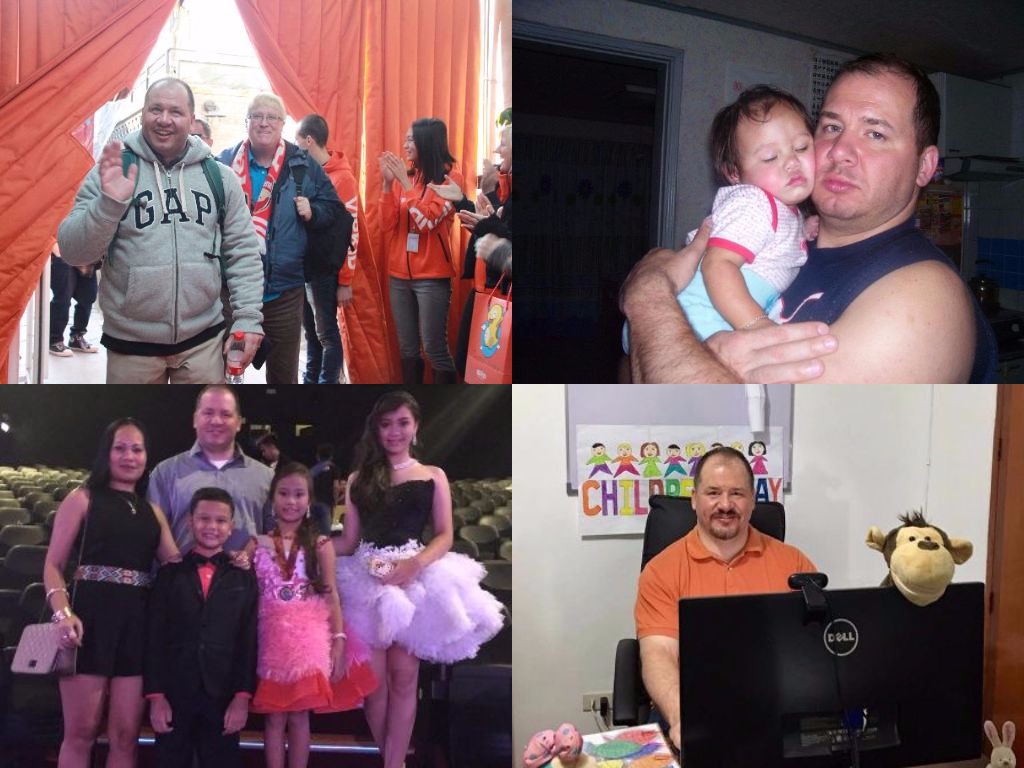 Hi! I'm Daniel DiDio. I have over 10 years experience. I've been teaching ESL online to kids since 2015.
I've traveled all over the world teaching ESL: South Korea, Myanmar, Saud Arabia, and the Philippines.
I'm also the founder of Teach ESL Online Anywhere that helps teachers find Online ESL Jobs.
My success includes winning the Most Popular Teacher Award with VIPKID. I have taught over 12,000 Online ESL Classes to kids from home.
I mentor teachers so they can become successful teaching ESL online. I get so excited when a teacher makes the changes to become a successful online ESL teacher.
If you want to follow in my footsteps and other successful teachers I've helped, enroll in The Online ESL Mentoring Program.
You can read more about me.