Alright, Mom. Let's get to it!
You have decided to pursue a home based online ESL teaching job.
You are probably reading this on your iPhone, a messy bun on your head while drinking a cup of coffee. Mom, you have been a staying at home with the kids for a little more than a few years. Most likely, you are parked in the car as we chat, because finally, someone decided to crash and nap in their car seat. This is the only moment of solace you will get in your day.
You are the CEO, CFO, and President of (insert your last name) Inc. You the domestic engineer, executive chef, chauffeur, nurse, event planner, and charge of your crew.
Well, Mom, it's your time. Time for something for you!
Your private Online ESL Mentor will provide you with an Online ESL Mentoring Program. This program is designed to help you build a "rock solid foundation" to teach ESL online. Online ESL Kidz Coach is the Online ESL Mentoring program you need to shape your Online ESL teaching craft. Your Online ESL Kidz Mentor can help you find the positions with the highest ESL pay possible in the industry and coaching for your mock class interview. Your Online ESL Kidz Mentor will guide your every step of the way!
SIGN UP NOW and Receive our FREE 14-day Online ESL Mentoring Series
Your family currently views your home as a place to chillax, eat, drink, and be all around merry. If you are like me, the backpacks and shoes get strewn across the front hall after school. Yesterday, my husband couldn't find our son's gym shoes in the morning. The dog had hidden it in a laundry basket. Yes, we have a dog and her hobby is hiding shoes.
Sound familiar?
You MUST set boundaries within your home to optimize success teaching English as a second language online.
Your spouse most likely is tremendously appreciative of your duties as a stay at home mom. You have probably shopped daycare and babysitters at some point and realized you would be working three-quarters of your month to pay for childcare.
Transforming your home into the optimal online English teaching environment is not going to be a simple endeavor. But, You CAN do this with "buy-in techniques" Mom! You are the ultimate master of your home economy.
1# You have to get "buy-in" from your spouse when you get paid to teach English online.
Disclaimer: It is likely that your husband thinks your pursuit of a virtual ESL teaching job is a cute hobby or a brief fad.
I wouldn't blame my husband for feeling this way. Last week, I spent 38.77 on a ukulele from Amazon. I spent probably 30 minutes trying it, until I realized, "Um, yeah…I don't like my fingers feeling all sore. Not my deal. So, like all of you, I have a ukulele in the house as a reminder that I am a tad bit whimsy at times.
I have done similar with knitting, running, scrapbooking, and yoga.
The only areas that I have ever been consistent with in my life are my kids and formerly, my career pursuits.
At first, my online TEFL teaching job was a genuine inconvenience for my husband.
When I began my home-based ESL teaching job, we were living in an old bungalow in Chicago. My husband adopted the attic as his video gaming man cave.
When I began teaching English online from home, I declared residency in his man cave.
SIGN UP NOW and Receive our FREE 14-day Online ESL Mentoring Series
Similarly, my husband and I lived in an apartment when we were newlyweds; we were right below, Mr. Creaky Creak, (as we coined our annoying neighbor who walks around his apartment from 2am-5am each night.)
I was now Mr. Creaky Creak in my husband's man cave. Instead of creak walking, I implemented a teaching technique I love to term as "warm language" (which my husband still to this day defines as yelling and screeching with unneeded personality).
"Do you really need to scream when you teach ESL online, Michelle? If you talk like a normal person, they can still hear you in China."
Disclaimer: This is an exaggeration. I don't yell when I teach ESL from home. I whisper, chant, sing, use silly voices, and shout to create emphasis for my English language learners.
I required a lot of props to teach ESL online; several toys were residing in the man cave.
Would your husband want to see a cute little Pokemon Pikachu, while he is online gaming with his guild trying to take down aliens overtaking their world?
I kind of ruined his "juju." I'm in the man cave singing, "Hello! I'm H-A-P-PY!" All while, he's on a headset planning a strike with the guys in his guild.
Let's just say for a few weeks there, we weren't quite living happily ever after…
Moms, money talks. You CAN do this with "buy-in techniques" Mom! Remember, you are the ultimate master of your home economy.
Like most of you, money is tight while raising a family. We were living paycheck to paycheck in the most expensive city in the Midwest. It was so stressful all of the time. We made it every month, but we were often not able to do anything extra for the family. It was so frustrating at times.
My husband was pretty astonished when I presented him with my first pay deposit from my online ESL job.
Like most of you, our house is always an utter disaster with three kids, a dog, a cat, and a guinea pig. I absolutely thrive on the immense love in my "zoo."
We were going through a vacuum cleaner every six months! Seriously, our house murdered vacuum cleaners. It was really frustrating because they all literally "sucked."
My husband looked at my virtual ESL teaching deposit and said, "Wow! You can finally buy the Dyson!"
At that moment, he simultaneously evicted himself and gladly surrendered his man cave. I had an office space to teach English online from home!
SIGN UP NOW and Receive our FREE 14-day Online ESL Mentoring Series
The Dyson brought us to the next level. My husband realized at that moment that prospects, which weren't monetarily obtainable before were within reach. He has often said, "I am so grateful for you home based English teaching job."
The Dyson was husband's buy-in for support of my teaching online to Chinese students. I was becoming a master of my home economy.
In the present day, I am thrilled to report that the Dyson has not been murdered by my family. It is a living member of our family.
Mom, you can do this too!
#2 You have to get "buy-in" from your kids when you teach English virtually from home.
My kids were fuming when I began teaching ESL online from home. As you can imagine, they were going to make me pay for it. They assumed that they were masters of our home economy.
My house is 1990's boom box sub-woofer loud! My children were born with mini megaphones on their mouths minus a volume decrease function.
I would be teaching online ESL classes, all while cringing with the noise about the house. As a virtual English as a second language teacher, you have to provide a mirage for your students. The students know you are in your house, but you have to make it appear to be a quiet and productive English as a second language classroom.
Moms, in general, are pretty good at the poker face. We have all been in Target when our kids are going bat crazy appearing to be expert parents with our calm posterior. Society gazes at us and deliberates, "Wow, that mom really has it together!"
That poker face helped me through my first few weeks of teaching when my kids would saunter into the man cave office. They would ask me to put the waffles in the toaster while I was in the middle of class!!!
Why?
"Because Dad doesn't do it like you do!!!?"
Are you kidding me right now? This is not happening!
I was beginning to really love my online TEFL job and I didn't want to lose it! I had to put the smack down and get my house in order.
I sat down with my kids and basically had a come to (fill in your deity) talk.
Well, yeah, um….
That didn't work. But you know what did?
Mac and Cheese from Noodles and Company.
My kids sold out for Mac N Cheese. You CAN do this with "buy-in techniques" Mom! Remember, you are the ultimate master of your home economy.

Everyone has their price, and for my kids, it was ooey goey stringy good old Wisconsin Mac.
I have taken them out for Mac N Cheese, every month since I began teaching ESL virtually from home. At first, it was just about the Mac. Though, I noticed that my kids became really proud of their mom. I would hear them telling people, "My mom teaches English online to Chinese students!"
SIGN UP NOW and Receive our FREE 14-day Online ESL Mentoring Series
The kids are still "loud" on occasion, but for the most part, they really understand that Mac N Cheese will vanish if they screw up. I think they understand that teaching English online makes their Mom a complete person.
#3 You EVEN have to get "buy-in" from the furry friends in your life when you teach English as a second language online.
When my son was 3 and my twins were 18 months old, I was encountered with a bout of depression. At that time, my husband was building his career while studying to earn a doctoral degree. I didn't have anyone to talk with during the day. It was the year that the Chicago winter was colder on record than Siberia. You could literally throw a pot of boiling water in the air and it would evaporate. A lot of people in the "windy city" scalded themselves with that experiment! I was cooped up in our drafty Chicago bungalow, and conversations with the cat weren't quite doing it for me!
I apologize to all of you cat lovers out there…
I found my dog online on a local shelter's website. During that frigid winter, Maggie Daley (named after the former first lady of Chicago), became my best friend. She brought joy to my life that winter.
Maggie has not been the most pleasant home-based English teaching coworker. She howls incessantly when I sing in class. She is that co-worker that munches her chips really loudly in the cubical next door.
She would even let one rip on occasion! And, with the poker face, you teach English online to Chinese students through the passing of gas!
I evicted the dog from my virtual English teaching workspace. Her buy-in is plenty of Beggin Strips, hugs, and walks after class.
Mission Accomplished: I became the Master of my home economy; with "buy-in" I had set boundaries within my home to optimize success teaching English as a second language online.
YOU MUST demand a change in the household norms if you want to have success as an online ESL teacher.
You can and will do this, Mom.
Take charge of your home economy. Everyone has a price. Be it a Dyson, Mac and Cheese, or Beggin Strips. You can do this mom.
Cheers!
Teacher Michelle
P. S.You do need "some" teaching experience of course to succeed, but The Online ESL Mentoring Program will give you the support you need to succeed.
It doesn't matter if you have taught for 20 years or just starting out. This is a great opportunity to analyze what you're doing in the classroom.
The Online ESL Mentoring Program is designed to support teachers throughout their ESL career.
Online ESL Mentoring Program: A Tried-and-True System that will build a tribe of loyal students so you can be the "Go-To" Guy or Gal at your school
______________________________________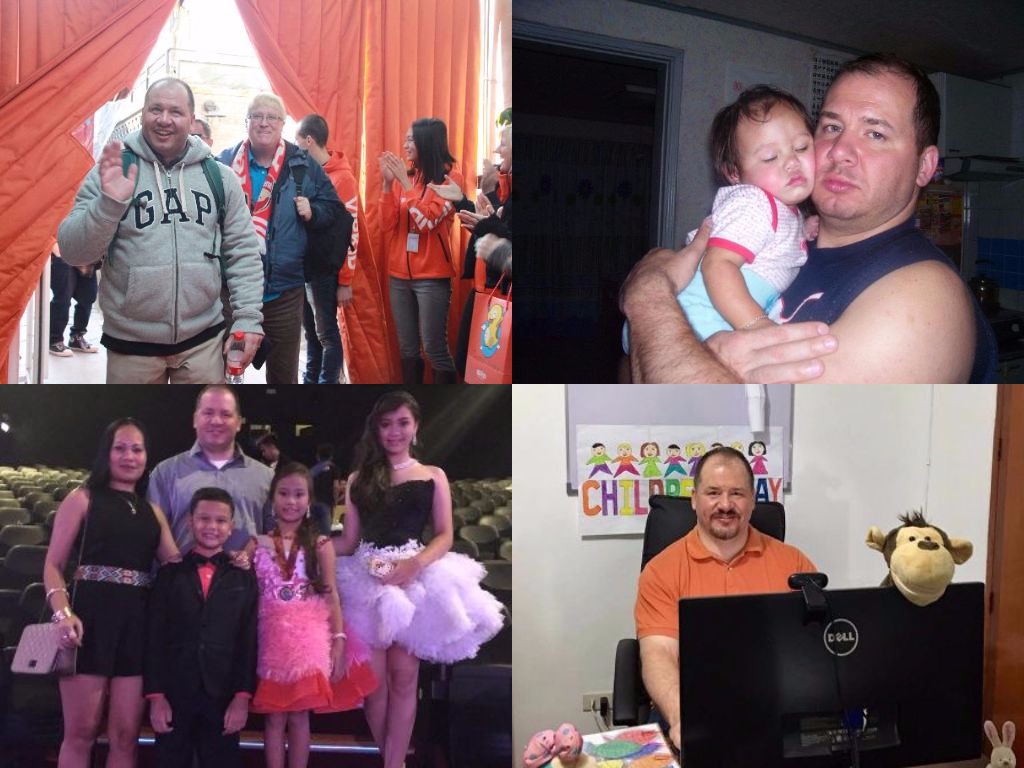 Hi! I'm Daniel DiDio. I have over 10 years experience. I've been teaching ESL online to kids since 2015.
I've traveled all over the world teaching ESL: South Korea, Myanmar, Saud Arabia, and the Philippines.
I'm also the founder of Teach ESL Online Anywhere that helps teachers find Online ESL Jobs.
My success includes winning the Most Popular Teacher Award with VIPKID. I have taught over 12,000 Online ESL Classes to kids from home.
I mentor teachers so they can become successful teaching ESL online. I get so excited when a teacher makes the changes to become a successful online ESL teacher.
If you want to follow in my footsteps and other successful teachers I've helped, enroll in The Online ESL Mentoring Program.
You can read more about me.