Hello, Moms!
You are working toward getting paid to teach English online with success. As moms, it is very rare for any of us to have life balance in our homes. I understand you take care of your people all day long. You rarely think of yourself. Your roots are most likely two inches of black with bright blonde layers fringing below. I know my life balance is totally off kilter when I can see the black roots clearly in my bathroom mirror!
SIGN UP NOW and Receive our FREE 14-day Online ESL Mentoring Series
When my kids are totally off the chain, I will lock myself in the bathroom with coffee, chocolate, and my cell phone; in strong hopes of gaining balance, or as I term "sanity." This brief bathroom vacation isn't even a complete moment of balance because tiny fingers poke through the crevice under the doorway. I hear tapping on the door with the repetitive murmurs, "Mom, Mom, Mama, Ma, Mom. I'm hungry. I am going to die if you don't make me toaster waffles now. Do you want me to die Mom? It will be your fault if I die."
Where I hail in Wisconsin, many women have secret stashes of New Glarus Beer in their bathrooms, all for this reason.
Anywho…
You must be realistic about your work——life ——-balance to optimize your success as a home-based ESL teacher (WLB).
Most of you are chuckling at the term "WLB." Work, life balance??? Who has that? That's something only really rich people have, right?
We recently moved to the Madison, Wisconsin area from Chicago. Chicago is a very fast-paced city. In Chicago, the work culture deemed that my husband was available for his job at all hours of the night. It would not be abnormal for his colleagues to send emails at 2:00 am.  Many times, glazed in sleep, I would roll over and catch him on iPhone answering work emails. My husband would depart for work at 5:00 am and arrive home between 6:00 pm and 7:00 pm. At this point in the evening, he was absolutely exhausted and not in the mood for family shenanigans.  He was also completing his doctorate at this time.  I was living the dream drowning in diapers, homework, and attitude issues. The family life was off balance.
During this time, I was managing our family life alone. I was also working as a virtual ESL teacher and coach for forty hours a week. I did not have balance, because I was in that "Work, work, work! Rush, rush, rush fast-paced mentality". I felt like I wasn't successful unless I was busy taking care of the kids, cleaning my house, or working at my online teaching job. There weren't any moments of quiet.
SIGN UP NOW and Receive our FREE 14-day Online ESL Mentoring Series
Last summer, we were invited by one of my husband's former colleagues to discuss a job opportunity in Madison, Wisconsin. The phrase, "Madison is a community that values "work, life balance," kept coming up in conversation throughout that stifling July weekend.
My husband and I began to simultaneously choke on our breakfast, the first time we heard his former coworker birth the words, "Work, life, balance."
Our host understood our confusion because she previously lived in the fast-paced Chicago culture.
What in the world is work life, balance? It can't be real. This has to be a scam. We didn't know any families that have work, life, balance.
We have been in Madison for a little over six months and I can tell you that work-life balance exists. My husband's current boss frowns upon emails being sent beyond work hours. He now arrives at the office between 7:30 am and 8:30 am.
At home, my husband participates in the morning routine; this allows gives me more hours to teach English online from home. He arrives home between 5:00 pm and 6:00 pm. He occasionally works on his laptop after the kids go to bed, but only if I have work to do for my English as a second language teaching or mentoring jobs. He rarely works from home on weekends; he has even started a Saturday afternoon nap routine.
Has my husband's success or productivity decreased living in WORK, LIFE, BALANCE?
NO!
Though, at first, this change was difficult for the family. We felt off kilter, but we started to notice that our kids were happier at home. I was also able to contribute to the family income more with his help in the morning. My husband is now able to have quality time with the kids that he lost for so many years.
To optimize your success as a stay at home English teaching mom, you must have BALANCE in your WORK and LIFE.
You are excited, about the possibility of having your dream job. You love being with your kids for all of their developmental milestones, but a career appeals to you for personal reasons; teaching ESL online will allow you to establish a lucrative career from the confines of your home. You will not need daycare! You will not be getting paid $5.00 per hour after paying a sitter $15.00 to babysit your three kids. You always wanted a flexible job and with taking the proper steps you will optimize your success to teach English virtually from home.
You will need an experienced Online ESL Mentor and Online ESL Mentoring Program to secure employment as an Online ESL Teacher.
Your private Online ESL Mentor will provide you with an Online ESL Mentoring Program.  This program is designed to help you build a "rock solid foundation" to teach ESL online.  Online ESL Kidz Coach is the Online ESL Mentoring program you need to shape your Online ESL teaching craft. Your Online ESL Kidz Mentor can help you find the positions with the highest ESL pay possible in the industry and coaching for your mock class interview. Your Online ESL Kidz Mentor will guide your every step of the way!
I found my English as a second language job on Craigslist; at that time, these positions were not common. My husband was concerned and thought the getting paid to teach English from home was a scam. He said, "Please don't give China our bank information. We don't have any money in our account as it is and we really don't need them to rip off the $3.42 that we actually have in the account." I seemingly annoyed, replied, "Fine. Just let me go on the interview and see what the deal is."
My interview mentor was an average stay-at-home dad from Florida. He was teaching English online to supplement his wife's income while caring for his two daughters at home.
SIGN UP NOW and Receive our FREE 14-day Online ESL Mentoring Series
He was living my life, only in a warmer climate! The day I interviewed for my virtual ESL teaching position it was about 20 degrees below 0 in Chicago!  I knew I was "on to something" after my online ESL mentoring session with this stay-at-home dad.
1# You MUST live in your own time zone while establishing your WORK, LIFE, BALANCE and teaching English online.
Well, Mom. I hate to break it to you…You aren't in China time! You are most likely living your boring life in the United States about 14 hours behind your ESL students. It is already tomorrow in Asia! Haha!
My student's say, "Good night, teacher!"
We always have a huge giggle when I say, "Good morning, student!"
Sleep? What's sleep??? I don't need that!!!
When you teaching English online from home, it is very easy to get caught into the, "I can make so much money trap!" I can open all of these English teaching time slots. I can teach English online from home, because what else am I doing??? I'm home.
You can't live in China time and be a mom!!! How do I know?
I have been there and done that!
#2 You MUST realize that teaching ESL from home is different from waking up to feed an infant at all hours of the night.
Initially, I was so excited to work, when I was hired as an online English teacher. I hadn't used my brain beyond wiping boogers and butts in about 8 years. I couldn't wait to help English as a second language students learn how to read, write and speak English.
I basically opened every time slot available. I figured, what's so hard? I was up with infants and I functioned through life.
BUT, this was totally different…
When my kids were infants, I was sitting and feeding them in a glazed half-sleep state.
Now, I had to be awake and implement maximum brain power in the middle of the night. Then, after teaching from 12am-2am I couldn't fall back to sleep because I was so hyper from teaching classes. I had to teach classes again at 4:30 am. I wasn't really sleeping at all.
I was a MOMSTER during the waking hours with my kids and husband. I was crabby and screamed all the time. Quite often, I even passed out on the couch.
My family wasn't happy. "When momma ain't happy, ain't nobody happy."
My husband told me to quit my online English teaching job or think of a way to function better as a mom during the day.
I realized I couldn't just work because I was available and home. You cannot deprive yourself of sleep. You may be "on" with your student, but your own family will suffer the consequences.
Be sure to allow yourself the amount of sleeping hours that you need to function as a human being. I currently go to bed between 10:00 pm – 11:00 pm. I wake up at 4:45 am and teach online English classes at 5:00 am.
Disclaimer: I would not recommend waking up 15 minutes before teaching a virtual ESL class until you have been teaching online for quite a while. Now, I have a system for waking up to teach English online: Coffee- check, lipstick- check, Brush hair- check, Computer on and updated the night before- check. For newbies, I recommend a 4:30 am wake up time for a 5:00 am class.
SIGN UP NOW and Receive our FREE 14-day Online ESL Mentoring Series
#3 You MUST listen to your Body to optimize your success as an online English as a second language teacher.
You MUST be HONEST with yourself. Listen to your body.
For example, I wasn't a MOMSTER when I was teaching English classes beginning at 4:30 am, but I was dragging butt by 5:00 pm at my son's karate class. I was also wiping my eyes and struggling through math homework later in the evening.
A 5:00 am start time for teaching English online is my perfect balance. I can function really well throughout the day. I don't feel tired in the early evening when I need to be alert for my children. I am chipper enough throughout the rest of the day to clean my house, volunteer, complete my ESL mentor job, write for this blog, and just be a balanced person.
Listen to your body, you will be able to gauge your perfect start time.
Don't do what I did—get balance or you will sabotage your family life—at least for a few weeks until your family informs you that you are a complete MOMSTER.
Cheers!
Teacher Michelle
P. S.You do need "some" teaching experience of course to succeed, but The Online ESL Mentoring Program will give you the support you need to succeed.
It doesn't matter if you have taught for 20 years or just starting out. This is a great opportunity to analyze what you're doing in the classroom.
The Online ESL Mentoring Program is designed to support teachers throughout their ESL career.
Online ESL Mentoring Program: A Tried-and-True System that will build a tribe of loyal students so you can be the "Go-To" Guy or Gal at your school
______________________________________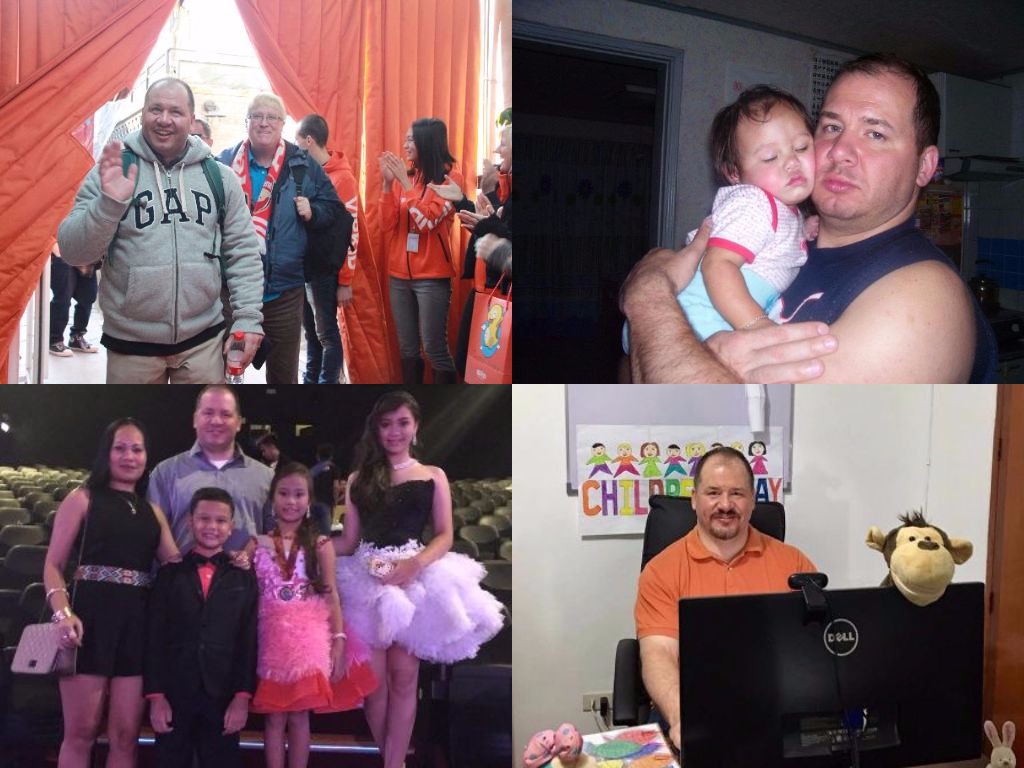 Hi! I'm Daniel DiDio. I have over 10 years experience. I've been teaching ESL online to kids since 2015.
I've traveled all over the world teaching ESL: South Korea, Myanmar, Saud Arabia, and the Philippines.
I'm also the founder of Teach ESL Online Anywhere that helps teachers find Online ESL Jobs.
My success includes winning the Most Popular Teacher Award with VIPKID. I have taught over 12,000 Online ESL Classes to kids from home.
I mentor teachers so they can become successful teaching ESL online. I get so excited when a teacher makes the changes to become a successful online ESL teacher.
If you want to follow in my footsteps and other successful teachers I've helped, enroll in The Online ESL Mentoring Program.
You can read more about me.