There are so many virtual ESL companies on the Internet? How do I narrow the ESL teaching company that is the right fit for me?
You are probably feeling really overwhelmed right now while pondering your English teaching job search. The online ESL teaching industry is growing exponentially at an extremely fast rate.
From author Christie Van Tol in her article titled, "The global ESL market is changing: what this means for ESL teachers" for AcceleratEd, "Latest estimates put the number of ESL schools and language institutes at 40,000+ worldwide."
1# With that being said, "Where in the world do I start searching for a job to get paid to teach English online???"
I found my home based ESL teaching position on Craigslist, under "education jobs." At the time, I was seeking a part-time work opportunity. I was hoping to find a home based job in the education field. I wanted to use my Master's Degree and I had some previous experience teaching at the middle school level.
SIGN UP NOW and Receive our FREE 14-day Online ESL Mentoring
Series
Teaching English online to another country was not on my radar when I was seeking part-time employment. I stumbled upon a new company that was seeking English teachers for children in China ages 5-15. They did not require a teaching degree and were seeking candidates with a Bachelor's degree in any field. The company did require previous volunteer or work experience with children. The online ESL industry was a fairly new concept when I discovered my virtual English teaching job. I was "lucky" that my online ESL company was a good "fit" for my teaching style.
The following websites provide a comprehensive list of companies in the online ESL teaching industry:
Teach English Online from Anywhere
2# I would perform significant research if I were to search for an online ESL teaching position in the future. The following is a checklist of questions for your search:
How many hours per week can I work?
Most online ESL companies advertise part-time positions with peak English teaching hours. Though, many teachers work off-peak hours. Virtual ESL teachers are able to book full-time hours after they build a base of English language learners. I currently teach ESL online about 25 hours a week at my current online ESL company. When I was solely teaching ESL (and not working on other projects), I booked 42 hours a week on a consistent basis.
How much money do I want to make?
There is a vast wage range in the virtual ESL teaching industry. The potential hourly salaries range from $8 – $30 an hour. The ESL app-based companies generally pay the least. They generally provide English conversational practice without preparation of materials to English language learners. The webcam chat-based companies with a specific delivery of English language learning products generally pay a higher wage. Glassdoor is a jobs website, which lists salaries and reviews of online ESL teaching companies.
You will be most likely operating as an independent contractor for your company. I am currently contracted with my online ESL company as an online English teacher. My company does not remove taxes from my wages. I am responsible for filing my taxes within my home country as an independent contractor.
SIGN UP NOW and Receive our FREE 14-day Online ESL Mentoring Series
Most virtual ESL companies pay once a month through PayPal or transfer to a bank account. Fees can vary between companies for transfer services.
Where do I want to work???
Well, of course, you will be getting paid to teach English from home in your pajamas. Though, you need to decide if there is a specific country you want to focus on in your ESL job search. I currently teach English virtually to children in China. There are online ESL companies based in many countries around the world. For example, just today, I had a request to teach English online to adults in Iran on LinkedIn. You need to be aware of your time zone in relation to the peak teaching hours of your virtual ESL based company. I live in the Central time zone. My online ESL students are living in the Beijing Time Zone. Depending on Day Light Savings Time, my English language learners are living 13-14 hours ahead of my time zone. This translates to the fact that I start working around 5:00 am.
Do I want to work for a small or large online ESL company? What do I desire in the work   "culture"?
I started at my virtual ESL company when there were only 500 contracted English teachers. There are currently 30,000 plus contracted English teachers at my company. I was content when my company was small in size. I am still satisfied working at a large online ESL company. The culture and witty nature of my company have not changed through the growth. I desired a work culture that permeated a fun-loving atmosphere. I enjoy the camaraderie of English teachers from my company around the world.
You need to figure out what is important in your idea of a work culture. Where have you worked in the past? What did you enjoy about the work environment?
Reviews on websites from current and former employees can help shape your idea of the work culture. You can find reviews of companies on several websites, including; Indeed and Glassdoor.
ANYONE can teach English online with the proper guidance from an Online ESL Kidz Coach Mentor.
Your private Online ESL Mentor will provide you with an Online ESL Mentoring Program.  This program is designed to help you build a "rock solid foundation" to teach ESL online.  Online ESL Kidz Coach is the Online ESL Mentoring program you need to shape your Online ESL teaching craft. Your Online ESL Kidz Mentor can help you find the positions with the highest ESL pay possible in the industry and coaching for your mock class interview. Your Online ESL Kidz Mentor will guide your every step of the way!
ANYONE can teach English online.
3# What educational background do the online ESL companies desire? How can I appeal to the virtual English teaching companies based on my experience?
Most virtual ESL companies prefer applicants with a bachelor's degree, TESOL, TEFL, or CELTA certifications.  Keep in mind you do not need to have a background in education to teach ESL online. ESL Companies that focus on kids prefer some experience working with children. I have mentored applicants who have assisted in Sunday schools, summer camps, children's theater, after-school programs, and swimming clubs. Many applicants list nanny and babysitting experience on their applications; focus on the "teaching aspects" of these positions when you write your initial application for employment.
Any experience with children can be carefully tailored specifically to a children's online ESL company application. The following can help you craft your experience with children for the online English teaching company application:
Framing your experience for an online ESL Company
When applying to an ESL company, you must frame your personal work, volunteer, and parenting experience for a successful application and interview.
Uh, But…I am new to this. I have never taught in a school. I am not a certified school teacher.
No worries!
Any experience with children can be tailored to an online English as a second language company.
From this point on, you need to think of yourself as an online ESL teacher. Right now, walk over to a mirror. Repeat three times: "I am an ESL teacher. I am an ESL teacher. I am an ESL teacher."
You CAN do this! Anyone can get paid to teach English online.
How do I frame my work experience for an online English language learning company?
Online ESL Companies desire the following experience:
They want a visualization of how your work experience relates to teaching children.

You do not need to be a teacher to have what online ESL companies consider "relevant" teaching experience.
You need to implement specific action verbs gears toward education when you tailor your resume. You should also keep these action verbs in mind when you speak to ESL recruiters and mentors about your relevant teaching experience.
Action verbs make your experience more powerful in the ears of the recruiter in the ESL industry.
For example, (former camp counselor), "I was in charge of a group of second-grade children. We played games and went swimming between 8:00 am and 3:00 pm daily."
SIGN UP NOW and Receive our FREE 14-day Online ESL Mentoring Series
This does not sound actionable to a prospective virtual English as a second language employer.
Whereas, the following sounds actionable, "I managed a group of ten-second grade boys and girl. I facilitated a variety games and activities for forty hours a week. I supervised their swimming activity time by acting as a lifeguard."
You need to be very specific about your work. If you worked specifically with children, mention the age ranges for the online ESL school. Do not sell yourself short to the online ESL companies. Please remember, online ESL teachers are in demand. Though, they do want your life experiences to transfer to engaging with children.
Please practice with others in advance before speaking to a recruiter at a virtual ESL company.
The following is a list of action words pertaining to the online ESL industry:
| | | | | | | | | |
| --- | --- | --- | --- | --- | --- | --- | --- | --- |
| Accommodated | Achieved | Acquired | Acted | Adapted | Addressed | Adjusted | Administered | Advised |
| Aided | Amended | Analyzed | Ascertained | Assessed | Assigned | Assisted | Boosted | Built |
| Calculated | Carried out | Coached | Collaborated | Collected | Combined | Communicated | Compared | Composed |
| Conceived | Conducted | Constructed | Consulted | Contributed | Coordinated | Corrected | Corresponded | Counseled |
| Crafted | Created | Critiqued | Deliberated | Delivered | Demonstrated | Designed | Determined | Developed |
| Devised | Diagnosed | Differentiated | Directed | Distributed | Drafted | Earned | Eased | Edited |
| Educated | Enabled | Encouraged | Enhanced | Enriched | Ensured | Established | Evaluated | Expanded |
| Explained | Facilitated | Familiarized | Focused | Fostered | Founded | Gained | Generated | Graded |
| Greeted | Guided | Helped | Highlighted | Identified | Illustrated | Implemented | Improved | Improvised |
| Increased | Indicated | Influenced | Informed | Initiated | Instructed | Integrated | Interpreted | Introduced |
| Issued | Justified | Launched | Lectured | Led | Maintained | Managed | Mapped out | Measured |
| Mediated | Mentored | Mobilized | Modeled | Moderated | Modified | Monitored | Motivated | Observed |
| Obtained | Ordered | Organized | Oversaw | Planned | Prepared | Presented | Programmed | Promoted |
| Provided | Recommended | Reduced | Regulated | Reinforced | Resolved | Restored | Revised | Scheduled |
| Served | Set goals | Shaped | Simplified | Spoke | Streamlined | Strengthened | Submitted | Suggested |
| Summarized | Supervised | Supplemented | Supplied | Supported | Synthesized | Tabulated | Tailored | Targeted |
| Taught | Tested | Tracked | Trained | Translated | Tutored | Updated | Volunteered | Welcomed |
The following is a resource guide to begin writing and speaking about your current work experience with online ESL companies:
Please practice with others in advance before speaking to a recruiter at a virtual ESL company.
Although, you may be tempted to "skip ahead," to your own career. Please read through all of the objectives. You may gain insight from the objectives about how to frame your own experience for ESL companies.
Actor
Entertained audiences with children of all ages.

Translated stories to life through active imagery for adults and children of all ages.

Boosted literacy skills and comprehension through play acting for audiences.
Airline Steward/ Stewardess
Served adults and children of all ages on flights.

Taught adult and children of multiple age groups airline safety procedures.

Ensured the safety of passengers; including children from age birth-18.
Audiologist
Assessed the hearing of children and adults.

Collaborated with other employees within the hospital.

Ensured an environment of ease for children and adults.
Business Owner
Implemented a business plan for success.

Planned inventory based on supply and demand trends.

Maintained and created positive partnerships within the community to generate business.
Camp Counselor
Facilitated daily summer activities for children age 5-++.

Designed daily summer camp curriculum for children ages 5-12.

Differentiated instruction for special needs campers.
Church Volunteer
Instructed groups of children ages 5-12 in a Sunday school class.

Supported students in their development projects in a Sunday school classroom.

Co-taught the Sunday school curriculum with other volunteers.
Coach
Led a group of second graders in a three-month soccer program.

Trained student players in soccer techniques.

Motivated student players with positive reinforcement.
Clergy
Instructed groups of people in religious education from ages 3 through adults.

Facilitated educational programs for religious studies.

Drafted curriculum with a team of religious education professionals for a congregation of 500 children and adults.
College Professor
Educated students ages 17+ in their English educational

endeavors

.

Designed curriculum for several semester class for over twenty years.

Evaluated student performance with standard and authentic assessments.
Corporate Trainer
Trained student workers to implement products at ABC Company.

Supported new employees with their education of company standards.

Mentored new employees within the company.
Customer Service Representative
Solved issues in the store for customers.

Created a positive environment for customers.

Maintained a log of daily activities of the customer service desk.
Dental Hygienist or Dentist
Carried out dental hygiene education to individuals ages 3-adult.

Oversaw the dental health of hundreds of patients ages 3-adult.

Modeled

techniques for proper dental health for patient replication in the home.
Fireman
Directed education for grade school students ages 5-12 involving fire safety in the home.

Fostered fire safety programs within grade schools during fire safety groups.

Addressed questions about fire safety for children ages 5-12.
Information Technology
Solved technology issues for ABC Company.

Taught employees computer skills.

Created a network and built on the skills of other to reinforce technology education in the workplace.
Instructor (Non-traditional- Karate, Swimming, or Art)
Prepared karate lesson plans for children ages 5-18.

Illustrated karate techniques through an active demonstration for students.

Helped students create the perfect forms through diligent practice.
Midwife
Organized birth plans for mothers.

Educated families with children ages 5-18 about the birth and childcare process.

Oversaw the birthing process for families and their children ages 5-18.
Musician
Performed for audiences ages 5-18.

Implemented showmanship techniques to keep the audience interested in the musical content.

Executed and organized musical sets for performances designed for all ages.
Occupational Therapist, Physical Therapist, or Speech Therapist
Crafted patient therapy plans for ages 5- adult.

Provided parents with supportive advice for implementation of home therapy.

Set goals with parents and patients for success.
Paralegal
Organized research and plans for trials.

Informed attorneys with details about cases.

Maintained the daily schedule for groups of attorneys.  
Paramedic
Educated school groups of children ages 5-12 about the job of a paramedic and safety at home.

Encouraged students to speak to their parents about home safety procedures.

Submitted records of emergencies to supervisors.
Photographer
Conducted photography sessions with families including children ages 5-18.

Influenced an overall positive mood on set to capture photographs.

Supported parents with children during photo shoots.
Police Officer
Taught D.A.R.E education classes to groups of 5

th

graders.

Established rapport with children and families on the neighborhood beat.

Maintained an environment of safety within the patrol neighborhood.
Parent Teacher Organization Mom or Dad
Organized events for 750 school children ages 5-14.

Facilitated motivational assemblies for school-aged children.

Designed and implemented fundraising programs for the school community.

Assessed the needs of the children of the school to create concrete fundraising goals.
Salesperson
Assisted families with children ages birth-18 their purchases from ABC furniture store.

Educated families about the various styles and functions of furniture.

Facilitated an environment of patience while parents with children made their choices about furniture and home goods.
Social Worker
Counseled

families with children ages 5-18.

Crafted and implemented therapy plans for children and adults.

Illustrated coping and behavior techniques for parents and children.
Stay-at-home Mom
Motivated three children from age birth-7 to learn educational concepts in the areas of literacy and math.

Facilitated social play groups structured for a variety of children from ages birth-7.

Organized daily schedules for three children ages birth-7.

Encouraged exploration with children ages birth-3 through field trips to museums, libraries, and community events.
Tour Guide
Educated museum viewers ages birth- adults about the science museum.

Fielded questions from children and adults about aspects of the tour.

Implemented warm language and total physical responses techniques to engage tour participants in active learning.
Veterinary Technician
Taught families with children ages 5-15 about proper care of their family pets.

Implemented the daily care of pets in the animal hospital.

Organized daily records for the animal hospital.
Waiter
Served families with children ages birth- adults in a large restaurant.

Informed families about the various meal options on the menu.

Provided an environment of exceptional customer service.
Writer/ Editor
Crafted articles for a magazine including a readership of parents of children ages birth-adults.

Completed deadlines in an efficient manner for the contracted magazine company.

Contributed ideas in creative sessions of writers at the magazine.

Edited magazine articles for grammar, punctuation, and proper usage of the English language.
Keep in mind, some companies do not require a bachelor's degree to teach English online. An Online ESL Kidz Mentor can help you develop your teaching skills.
The following is an Online ESL Kidz Coach testimonial from Teacher Eric:  
"In a nutshell from your ESL mentoring program:  I went from a newbie with no degree who couldn't pass 7 demos or so and no "formal" teaching experience to landing a demo with a company that requires a degree BUT likes to give "chances" and the feedback was really good!!!"
When you teach ESL virtually from home, you can be successful through the presentation your very own personality and style. You do not need to conform to an image in your mind of the typical online ESL teacher.
From author Christie Van Tol in her article titled, "The global ESL market is changing: what this means for ESL teachers" for AcceleratEd, "Billions of people around the globe are learning English — not just as a hobby — but out of economic necessity."
Online ESL teachers are a hot commodity; ESL companies NEED teacher to deliver their products to English language learners.
There is an online English teaching company that is your perfect fit.
Cheers!
Teacher Michelle
P. S.You do need "some" teaching experience of course to succeed, but The Online ESL Mentoring Program will give you the support you need to succeed.
It doesn't matter if you have taught for 20 years or just starting out. This is a great opportunity to analyze what you're doing in the classroom.
The Online ESL Mentoring Program is designed to support teachers throughout their ESL career.
Online ESL Mentoring Program: A Tried-and-True System that will build a tribe of loyal students so you can be the "Go-To" Guy or Gal at your school
______________________________________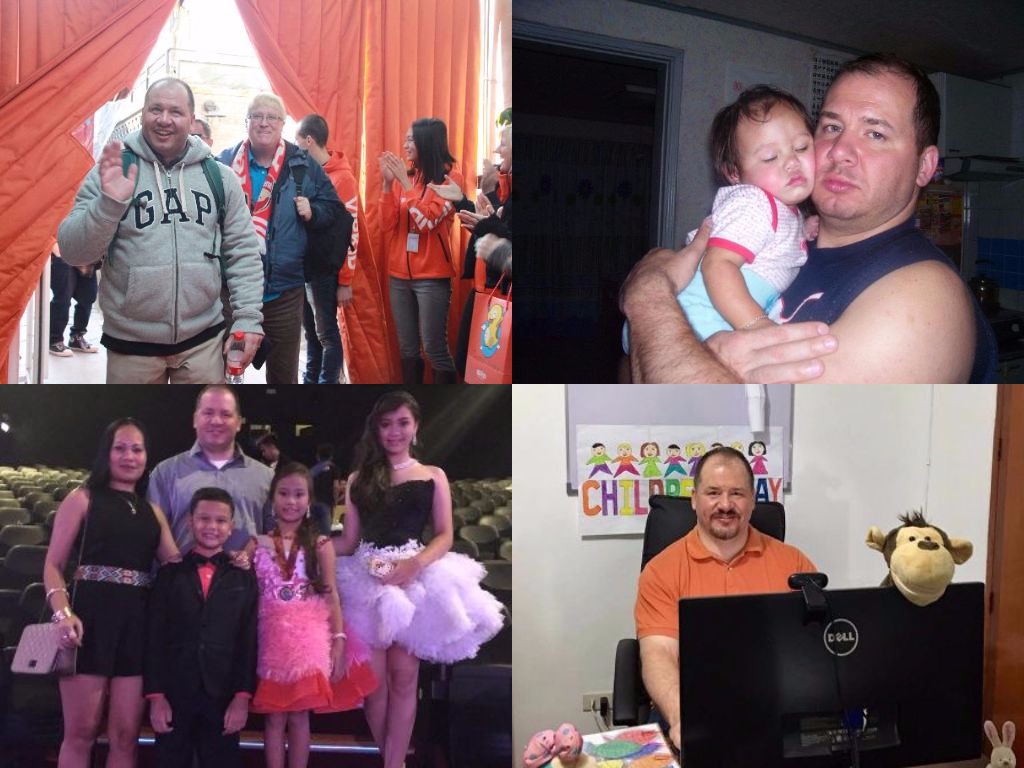 Hi! I'm Daniel DiDio. I have over 10 years experience. I've been teaching ESL online to kids since 2015.
I've traveled all over the world teaching ESL: South Korea, Myanmar, Saud Arabia, and the Philippines.
I'm also the founder of Teach ESL Online Anywhere that helps teachers find Online ESL Jobs.
My success includes winning the Most Popular Teacher Award with VIPKID. I have taught over 13,000 Online ESL Classes to kids from home.
I mentor teachers so they can become successful teaching ESL online. I get so excited when a teacher makes the changes to become a successful online ESL teacher.
If you want to follow in my footsteps and other successful teachers I've helped, enroll in The Online ESL Mentoring Program.
You can read more about me.