You can be a stay at home mom and have the best of both your family and career. You can teach ESL online from home with success as a stay-at-home mother. Right now, you may be thinking, "I just don't know how I can make this happen at home??? I really don't have any help from my family or friends with my kids. I am already overwhelmed at home. I currently have a mountain of unfolded laundry in the family room. I am going to have to rewash it because my kids are currently jumping into it from the top of the couch screaming, "Ninja fighters! Retreat! Cave of laundry we go!"
Though, right now, I know you feel like you don't have an identity beyond your children and the laundry! You miss being that person with creative ideas. You feel like you are going nuts. Paw Patrol and talking about the variations of poop colors at Mommy and Me aren't cutting it for you??? Well, why not?
I'm totally kidding!!!
Mom, I guarantee you can get paid to teach English online! I began my journey searching for jobs teaching English online about two years ago. At this point, I had been a stay-at-home mom of our three kids for eight years. I would think about going back to the brick and mortar schools, but I would get overwhelmed thinking about what I would do if my three kids were homesick.
SIGN UP NOW and Receive our FREE 14-day Online ESL Mentoring Series
Disclaimer: You do not need to have an ESL teacher certification, TESOL, or TELF to teach English online from home. Mom, you can and WILL get a virtual ESL teaching job without any previous experience! I have personally mentored former lawyers, human resource workers, dolphin trainers, actors, accountants, social workers, and karate instructors who are now getting paid to teach English online. Anyone can teach ESL online from home!
You will need an experienced Online ESL Mentor and Online ESL Mentoring Program to secure employment as an Online ESL Teacher.
Your private Online ESL Mentor will provide you with an Online ESL Mentoring Program.  This program is designed to help you build a "rock solid foundation" to teach ESL online.  Online ESL Kidz Coach is the Online ESL Mentoring program you need to shape your Online ESL teaching craft. Your Online ESL Kidz Mentor can help you find the positions with the highest ESL pay possible in the industry and coaching for your mock class interview. Your Online ESL Kidz Mentor will guide your every step of the way!
My husband was and still is the breadwinner of our family. He cannot take days off from work to care for our three children when they are home sick from school or daycare. It stinks, but that is my reality at this stage of my life.
Perhaps, you were a professional before you had kids? You went to college and pursued a career.
Mom, you loved your career!
You felt like you were making a small difference in the world. It felt great to pursue your dreams! Maybe you went on to get a Master's Degree or additional certifications with your company? Your dreams can happen as a virtual ESL teacher. You can get paid to teach English online from home!
SIGN UP NOW and Receive our FREE 14-day Online ESL Mentoring Series
Another Disclaimer: Being a stay at home parent is an amazing experience. You get to see everything through your children's eyes. We are truly blessed to have the opportunity to be there for every step, word, and stage.
"BUT, MOM, mom, mom, mamma, Mom!!!!" (I am sure you have heard that thousands of times with a miniature person tugging at your skinny jeans. For me, it was always leggings. I'm a leggings gal).
But Anywho….
Mom, it is OK to feel like you want your career too. You may be feeling guilty right now. I know I felt horribly guilty when I wanted my career at times. People would say to me, "What is your problem? You get to have lunch with friends while your kids are at preschool. You get to volunteer in their classrooms. You have it made."
BUT….
I didn't have "made!" I wanted to scream. I felt like I was so stupid and that my brain cells were oozing out of my body with every passing year. I had earned a Master's Degree with a 4.0 GPA. At that point, I felt dumber than dirt because I wasn't doing anything with my skillset on a daily basis. I would word vomit to my husband every night when he arrived home from work. I was starving for stimulating conversations and a creative outlet.
Though, I didn't want to leave my children. I love them more than anything in this universe. I wanted to see them grow, learn, and morph into amazing humans. I enjoy being there when they hop off the bus each day. I wanted to help them with their homework and be there for the difficult teenage years. I wanted to be that mother, but I desperately missed the stylish, smart, and savvy young woman who I was all those years ago. Teaching English online from home has helped me to rediscover that young woman, but also be a present mother.
In other words…
I have my cake and I eat it TOO!!! I do it all and neither my family life nor work life pays the price; home-based ESL teaching positions are the perfect balance for any mother.
SIGN UP NOW and Receive our FREE 14-day Online ESL Mentoring Series
Two years ago when I started my online ESL work from home teaching job, I didn't think I could do it. My confidence in my professional abilities was low. Who would want me, I hadn't worked in eight years!
Dear Mom,  
Guess what? Someone does want you to teach English online from home! There is an online ESL teacher job out there waiting for you to start getting paid to teach English from home. These Online ESL companies know that you are a smart, capable, and intelligent. Though, your Online ESL Mentor understands that you also answer to "Mom" the minute you shut down your computer from your online ESL teaching job. Your mentor will be able to guide you through the process to gain success as a virtual ESL teacher.
Moms, there are 5 MUSTS for teaching English online as a stay-at-home parent. Throughout this blog series, you will get to know me better! We will have frank conversations about ways you will make the plunge and become successful as an online ESL teacher.
1# You MUST set work boundaries with your partner and family when teaching English online.
I had a really hard time taking myself seriously beyond "Mom, Mom, Mamama, MOM!!!!! (Tug tug, skinny jeans pant leg)
2# You MUST optimize your workspace for success.
First things first. I took my husband's man cave. Bye, bye Man Cave. Hello Moolah.
3# You MUST be realistic about your work—-life—-balance (WLB).
You need to snooze or lose.
4# You MUST invest in yourself as a PROFESSIONAL person.
Treat 'Yo self! Girl!
5# You MUST set boundaries with friends, neighbors, and Parent-Teacher volunteer organizations.
Learn to say, "No, Naw, No, No, No, Nah, Nay-nay!
You will attain and be successful in your online ESL teaching job if you follow these MUSTS and get an Online ESL Mentor!
You CAN and WILL become a virtual ESL teacher, MOM!
Cheers!
Teacher Michelle
P. S.You do need "some" teaching experience of course to succeed, but The Online ESL Mentoring Program will give you the support you need to succeed.
It doesn't matter if you have taught for 20 years or just starting out. This is a great opportunity to analyze what you're doing in the classroom.
The Online ESL Mentoring Program is designed to support teachers throughout their ESL career.
Online ESL Mentoring Program: A Tried-and-True System that will build a tribe of loyal students so you can be the "Go-To" Guy or Gal at your school
______________________________________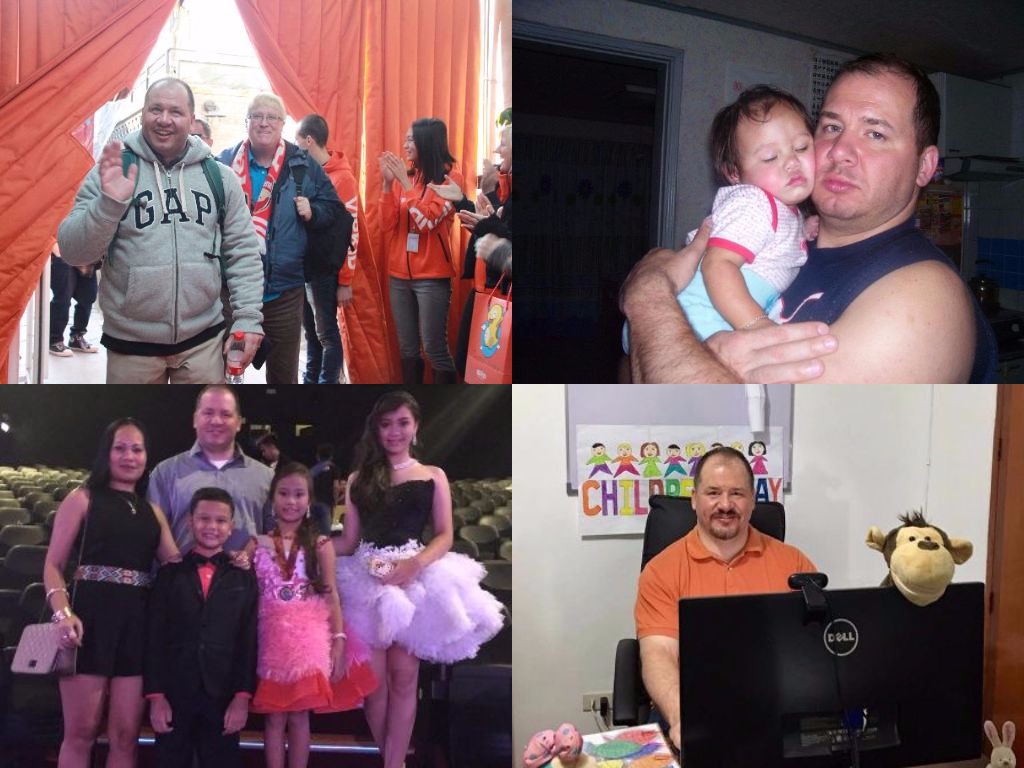 Hi! I'm Daniel DiDio. I have over 10 years experience. I've been teaching ESL online to kids since 2015.
I've traveled all over the world teaching ESL: South Korea, Myanmar, Saud Arabia, and the Philippines.
I'm also the founder of Teach ESL Online Anywhere that helps teachers find Online ESL Jobs.
My success includes winning the Most Popular Teacher Award with VIPKID. I have taught over 12,000 Online ESL Classes to kids from home.
I mentor teachers so they can become successful teaching ESL online. I get so excited when a teacher makes the changes to become a successful online ESL teacher.
If you want to follow in my footsteps and other successful teachers I've helped, enroll in The Online ESL Mentoring Program.
You can read more about me.